Estampe moderne & sportive…
Galerie d'affiches anciennes, consultant en médiation territoriale et entreprise de jardinage
Identité visuelle pour une galerie d'affiches anciennes. Le logo est en perpétuelle mutation : ses lettres sont redessinées pour s'adapter au style des affiches qui illustre le dos des cartes de visite et du papier à entête.
Identity of a gallery specialized in antique posters. The logo changes to adapt each new poster in the back of the business cards: from colors to letters forms.
Identité visuelle d'un créateur de mode. Son numéro de passeport est percé sur tous supports de communication.
Identity for a fashion designer. His passport number is pierced into every print he send out.
Identité graphique d'une consultante en gestion et médiation territoriales. Inspiration : les pictogrammes et légendes de cartes géographiques.
Identity of a consultant and territorial troubleshooter. Inspiration: cartography.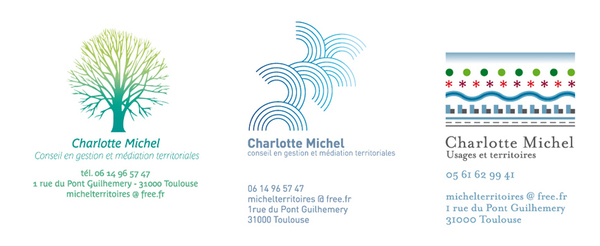 Identité visuelle d'une entreprise de jardinage.
Identity for a gardening company.